This is my current quilt I am working on that will be going into my
Etsy shop
. This quilt is 100% cotton like all the quilts I hand make. I also use quality designer quilting fabric in all my designs. This quilt I am making using the Sweet Serenade Fabric Line by Basic Grey for Moda. It will have a cream sashing, turquoise boarder, medium brown textured back, and the same brown fabric for the binding. This quilt is going to turn out gorgeous!!! I am excited at how well it is coming along. Once this quilt is finished it will be listed in my Etsy shop unless I get a request for a sale before I put it up in the shop.
Many of you may have not noticed that I have an Etsy Shop. There has been a tab at the top of my blog for quite a while I just haven't had a chance to write about it until now. This tab is linked for your convenience of being able to find my
Heart Zipper Etsy Shop
. I am still in the process of adding more handmade items to my Etsy shop. I have many more ideas to come and many projects in process. For now I just wanted to share with you what I currently have for sale in my shop.
Above: Twister Quilt made using "Flirt" line by Moda. A very fun quilt!! It features hearts, birds, and gorgeous vibrant colors.
Above: Jungle Quilt featuring Jungle Jive fabric by Benartex. This quilt is so fun for the little child in your life. It is the perfect size for a juvenile or toddler bed.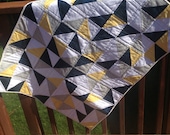 Above: One of my own modern designs. This quilt is great for a crib or toddler bed. Gorgeous quilt!!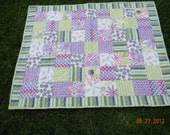 Above: Baby Girl Quilt. This quilt would make a great gift!!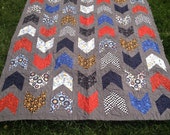 Above: Car Quilt using "Rev em Up" line by Adornit. This quilt would be great for any boy or for the car lover in your life.
Keep your eye out for many more handmade gifts to come!!! I enjoy sewing and love to share my talent with all of you. Watch for upcoming handmade gifts including quilts and many other handmade items.
Leave me a comment and tell me what you would like to see in my
Etsy shop
!! Or just leave a comment telling me what you think or what you love that you have seen.