**I was provided the product featured free of charge in order to give an honest review. No other compensation was received. My thoughts and opinions are 100&% my own.**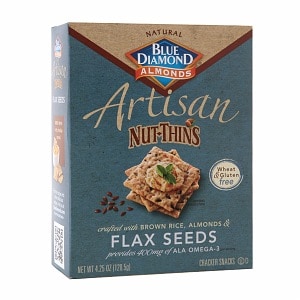 Blue Diamond
makes many different kinds of products. I didn't realize they made some of the products they make. Just recently Blue Diamond released Artisan Nut thins. These thins are Wheat and Gluten FREE and so I was excited to try them. I am always looking for new gluten free products to try.
Blue Diamond Artisan Nut-Thins come in three delicious flavors.
Flax seed flavor offers 400 mg of ALA omega-3 per serving. This was very appealing to me. I am also always looking for healthy products to share with my family rather than eating all the "junk" food. The Multi-Seed flavor offers 21 grams of whole-grain goodness per serving. Great source of multi-grain if that is what you are searching for. The Sesame Seed flavor provides three grams of fiber with every serving.
I loved the Flax Seed flavor. I would have to say it was one of my favorites. The flavors are all delicious. This box of the Flax Seed flavor went so fast. My husband and my son also really loved these.
These are the Flax Seed flavor Nut-Thin. They actually look very delicious and appetizing. They have a very crunchy texture that I love. My son kept asking for more. My husband and I like to eat healthy foods, and I love to find new products that are gluten free. Many gluten free products don't taste very good but these are so delicious. I will definitely be buying more of these in the future. I highly recommend you try these for yourself. Pick your flavor and give them a try. They are an easy and healthy alternative to many of the other snacks out there. They are a great snack to have around for your family.
Check out
Blue Diamond
and see what other products they offer.
Naturally Savvy
is a great website for natural and organic living. Find advice on many issues that you deal with in your personal and family life. Also find GREAT recipes!! Live a healthier life. Check out Naturally Savvy today and learn something new.
**I was provided with the featured product free of charge via Blue Diamond and Naturally Savvy in order to give an honest review. No other compensation was received. My thoughts and opinions are 100% my own.**